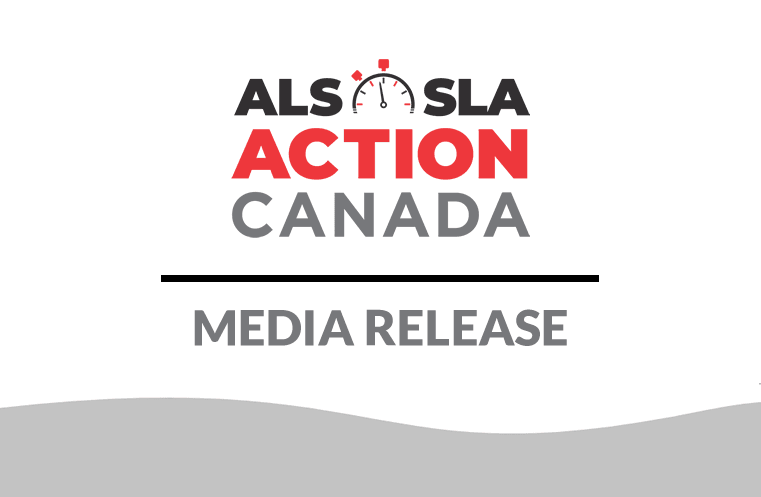 Canadians with ALS Need Urgent Access to Promising Treatments Available Worldwide
Published in the Media Release December 17, 2020
For Immediate Release
December 17, 2020
Canadians living with Amyotrophic lateral sclerosis (ALS) issued an urgent plea to have access to therapies that will become available outside Canada but not to them — with the Canadian drug approval process taking years longer than their expected lifespan.
"The disease moves rapidly but the regulatory bodies that provide access to potential therapies do not," said Deane Gorsline, Chair of ALS Action Canada, a 32-year-old Combat Engineer who serves in the Canadian Armed Forces and diagnosed in 2018.  "The ALS story is no longer about just wheelchairs and medically assisted dying. We have unprecedented hope given that over 160 drug companies globally are working on promising treatments, including about 80 ALS clinical trials, with several in their final stages. There has never been a more promising time to change ALS from a terminal to a treatable disease."
ALS Action Canada points out that advances in treatments have largely been happening outside of Canada,  with only two drugs available in Canada to treat ALS: (1) Riluzole (Rilutek), approved in November 2000, which may extend life by six to 19 months;  and (2) Edaravone (Radicava) approved in October 2018, which may make a modest difference for some people.
ALS Action Canada, in collaboration with other advocacy groups in Canada, have asked the federal government to initiate an ALS treatment framework,  similar to  'Project Orbis', a collaboration among Canada, the US, Australia and other countries, that accelerates the drug approval process for life-saving cancer treatments.  For ALS, this framework is expected to help pharmaceutical companies prioritize the Canadian market, which it currently does not, given the cumbersome approval processes.
"Canadians with ALS would immediately benefit from a collaboration that brings together regulators from multiple countries to review ALS drugs concurrently,"Gorsline added. "Patients would receive earlier access to innovative medical treatments."
ALS Action Canada also wants the provincial approval process to be streamlined for ALS therapies. For example, Edaravone was approved by Health Canada in October 2018 but it took an additional 18 to 22 months for each province to approve it under their provincial health plan, and two provinces still have not approved it.
"Provincial regulators move slowly and have different priorities, which creates even more delay and disparity for Canadians with ALS.  Meanwhile, the ALS clock keeps ticking," Gorsline said.
ALS Action Canada has called on the Government of Canada for:
1.      The development of a Health Canada regulatory framework, like Project Orbis, to immediately approve ALS therapies for use in Canada as they are approved by the US Food and Drug Administration, and/or equivalent regulators in other countries;
2.      A federal investment of $10 million to launch an ALS "platform" clinical trial in Canada. Platform trials accelerate the testing of new ALS therapies by assessing multiple treatments at once, reducing research costs; decreasing the trial time; and increasing patient participation. The group has identified the Massachusetts-based 'HEALEY ALS Platform Trial' as the most logical choice with a trial site in Montreal. For an additional $5 million, trial sites could be expanded to include provinces that do not offer clinical trials such as British Columbia, Manitoba, and Nova Scotia.
3.      The assurance that the Patent Medicines Prices Review Board's recent changes provide for ALS clinical trials and therapies in Canada, and/or exempt ALS therapies from the new pricing rules;
4.      The assurance that all ALS therapies be immediately covered under provincial health care programs once approved by Health Canada.
5.       A $5 million support fund to Canadians with ALS who must travel outside Canada to access treatment and trials unavailable in Canada.
"With the Covid-19 pandemic, we have seen the speedy pace at which our governments can move to protect the health and safety of Canadians,"Gorsline said. "Canada needs to raise its own standard of care to that available to the rest of the world. We need to help the thousands of Canadians living with ALS, and other neurological diseases, whose prognosis will improve if we attend to the science, the research and the collaboration."
www. alsactioncanada.org
Backgrounder/Deck attached
ALS Action Canada White Paper attached
Contact: Kathryn Hendrick, khendrick@gbagroup.ca (416) 277-6281