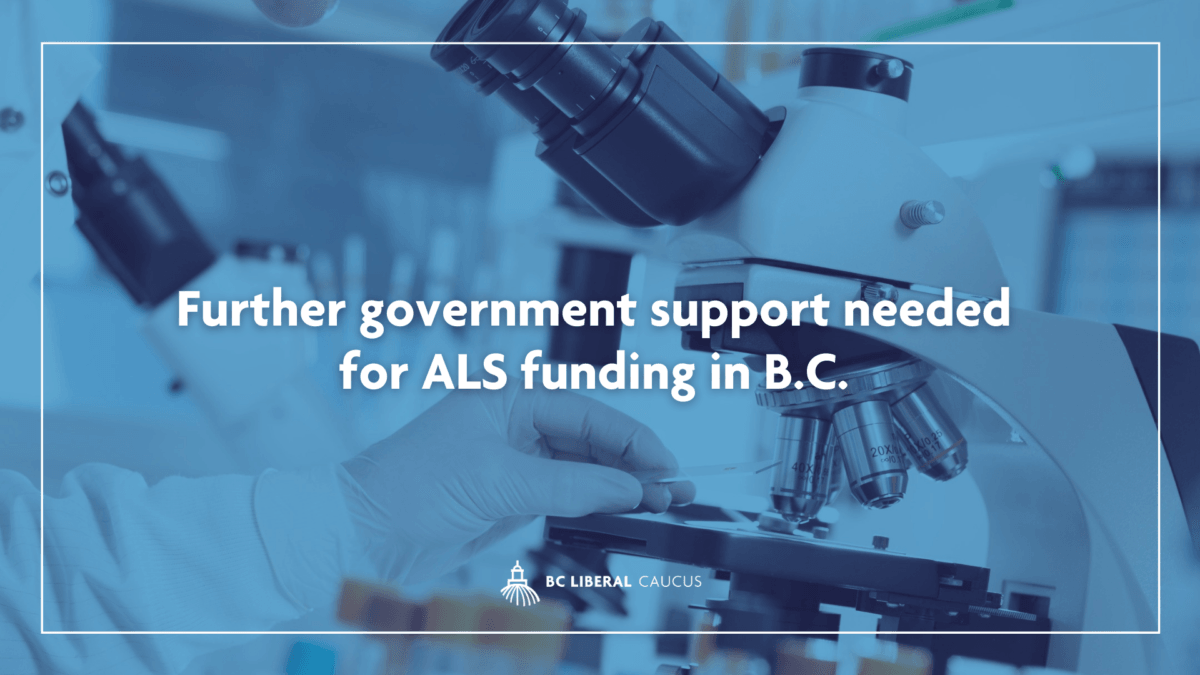 Further government support needed for ALS funding in B.C.
Published in BC Liberal Caucus March 12, 2021
VICTORIA (March 12, 2021) – The BC Liberals are advocating for government to take immediate action to increase funding for clinical trials and research into Amyotrophic Lateral Sclerosis (ALS) here in British Columbia.
"ALS is a serious disease that impacts thousands of Canadians and their families every year," said Shirley Bond, Interim Leader of the Official Opposition. "Right now, B.C. lags behind the rest of Canada in ALS research and care. We have one existing clinic whose staff who are stretched thin, and there are no clinical trials being conducted in B.C., forcing patients to travel out of province if they want to take part. It is time for government to work with ALS advocates in B.C. and deliver the resources needed to provide better support to those living with ALS and their families."
ALS advocates are calling on the government to address the lack of resources devoted to ALS research and treatment. The ALS Society of B.C. is currently working to secure funding for Project Hope, an initiative aimed at establishing an ALS Professorship in Research at UBC, through which clinical trials can be brought to our province, ensuring both further research and quality clinical care.
"The stories of the serious impacts this disease has on patients and their families, who often face great burdens in caring for their loved one, are heartbreaking," said Renee Merrifield. "Government needs to take immediate action on this and provide the resources necessary to bring better ALS research and treatment to B.C. It's vital that government play a greater role in the fight against ALS and the search for an eventual cure."
Attachment: Letter to the Premier and Minister of Health, March 12, 2021