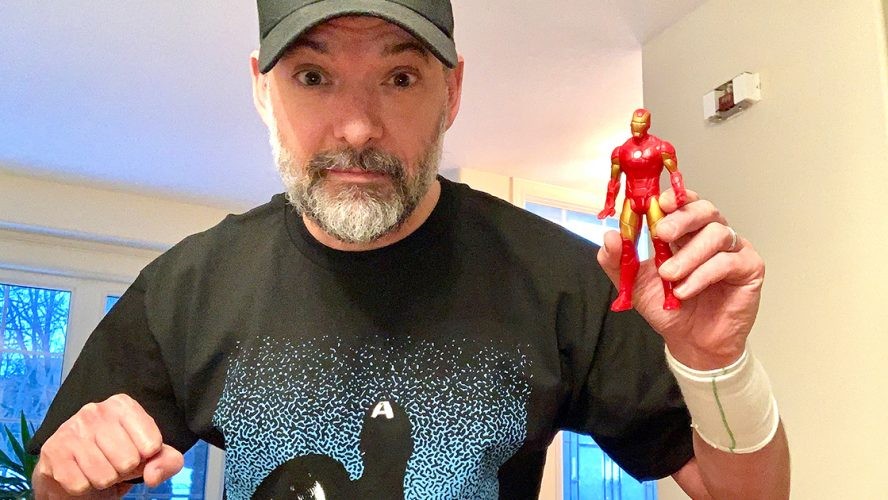 Who Was That Masked Man? These Superheroes Fight ALS
Published in Health Insight February 7, 2021
Steven Gallagher found out two summers ago that he has amyotrophic lateral sclerosis (ALS), a terminal neurodegenerative disease. Since then, the 48-year-old has pushed past the dark thoughts that so often accompany the diagnosis. Now, he says, he's focused not on the three letters "ALS" but instead on a four-letter word: hope. And to help him do that, Gallagher has turned to superheroes to inspire his fight against ALS.
The reality of ALS
ALS is a fatal disease that progresses with devastating swiftness. The disease involves the brain and spinal cord, the muscles of the body, and the motor neurons that send signals between the two. Because ALS causes the motor neurons to die, over time the brain stops communicating with the muscles, causing them to become gradually weaker and resulting in progressive paralysis, including losing the ability to walk, talk, eat, move, and eventually breathe.
At any given time, ALS affects the lives of 3,000 Canadians, the majority of whom die within two to five years of diagnosis. Yet, there's great promise and hope on the horizon: ALS research has come further in the last several years than ever before; and there are dozens of ALS clinical trials currently underway, any of which could prove to be effective and become a standard therapy for the disease.
The superhero strikes
After his ALS diagnosis, Gallagher channeled his inner superhero, wearing a Superman T-shirt to his first treatment session at the hospital and sharing the photo on social media. Since then, he's continued donning superhero attire — whether it's while participating in ALS fundraising events or spending time with family and friends. Gallagher knows that superheroes are a powerful and inspiring embodiment of what he's facing right now. And he has amassed quite a collection of superhero gear: his family friends have gifted him Hulk, Captain America, and Shazam t-shirts, a blanket, action figures, and more.
"It's a way to acknowledge the super support my family and I have received," he says, "and to encourage everyone — including myself — to channel their inner superhero powers to fight ALS."
Right now, he's taking the time to cherish even more the relationships he holds dear, especially his family. "I'm going to seize every day and focus on living in the moment," he says. "I may have something that could limit my time in life, but I will be savoring every moment with my family."
"I want to travel and live a long life — and I believe that I will. But I also have a difficult illness that I'm going to fight," he says. "My story isn't having ALS. My story is hope."