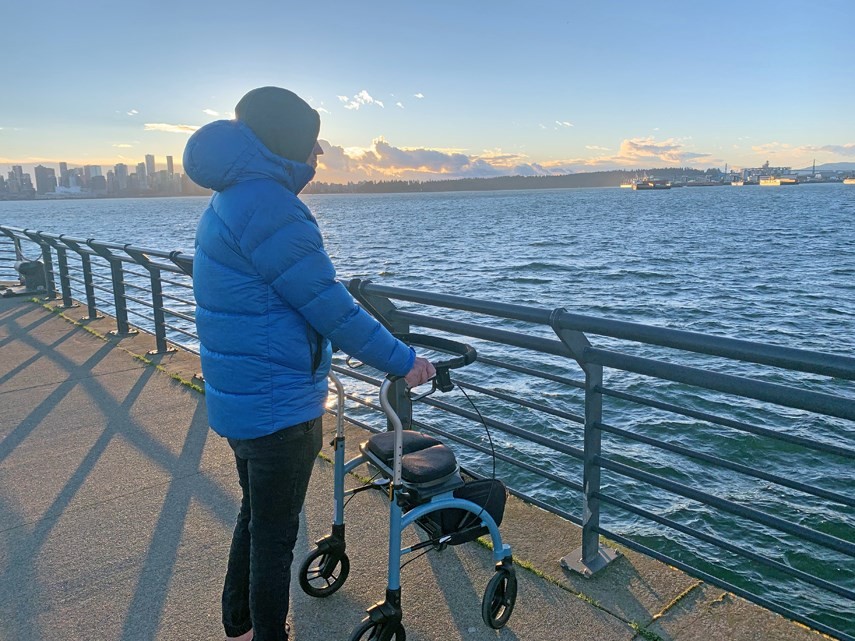 North Vancouver ALS patient says hope needed in form of clinical trials in B.C.
Published in North Shore News April 21, 2021, written by Ben Bengtson
North Vancouver resident Greg Gowe gazes out from Burrard Dry Dock in February 2021. Gowe was diagnosed with ALS in 2019 and has been advocating for more clinical trials. photo courtesy the Gowe family
---
In only a few short years North Vancouver resident Greg Gowe has had his world completely transformed by amyotrophic lateral sclerosis, though he's still doing everything he can to transform lives for the better for families impacted by the disease.
Since being diagnosed with ALS, also known as Lou Gehrig's disease, in 2019, Gowe has worked tirelessly in his efforts to call upon the government to establish clinical trials in B.C., increase federal research funding, and improve facilities used to treat ALS in the province.
Noting that it will have been 80 years this year since baseball player Lou Gehrig succumbed to ALS, Gowe said the numerous clinical trials going on around the world spell hope for those living with the disease – if the only the provincial and federal governments could get on board.
"It's important to me obviously on a personal level – I have two kids. But also, it's time to end this disease," said Gowe. "It's time to get our government to fund ALS."
Gowe, a former Telus lawyer, was forced into retirement at age 48 after what started as a tingling sensation in his hands and arms was formally diagnosed as ALS.
Since then, Gowe has lost most of his ability to walk and currently needs help showering, getting dressed and eating.
ALS is a progressive degenerative disease that gradually paralyzes people as the brain loses the ability to communicate with the muscles of the body that control the ability to walk, talk and even breathe.
Currently, there are only two drugs approved in Canada to treat ALS, though neither is known to significantly slow the progression of the disease or extend a patient's life.
Still, for many living with ALS, clinical trials offer the best source of hope, though they're only offered in a select few provinces in Canada, not including B.C.
Because of this, Gowe said he has been back and forth to Montreal for treatment 17 times over the last two years.
"Unfortunately, the trials are not working well enough for me at the moment. Today, I can barely walk," said Gowe, adding he'll be heading to Edmonton next week for another trial.
Last year, Gowe and a group of ALS patients from B.C. connected with another group of patients outside the province to form ALS Action Canada.
The purpose of the group is to draw attention to ALS patients and their families across the country, while advocating for more clinical trials for experimental therapies or drugs throughout Canada.
While careful not to denigrate the valuable work of provincial ALS non-profits, Gowe said these organizations often put too much focus on simply living and coping with the disease and not enough resources are devoted to advocating for a cure.
"We need to get the clinic upgraded and get innovative research going on in B.C.," said Gowe.
Currently, ALS Action Canada has launched a fundraising campaign encouraging those who can afford it to donate a portion of their ICBC COVID-19 rebate cheque so the group can continue advocating for promising new ALS treatments.
"For those that can afford them, it's a way to pay it forward or take all the hardship from COVID and turn it into something positive," he said. "We are starting to see more drugs coming through the pipeline and there is a drug that will be seeking approval in Canada in the coming weeks. If it's approved, it will be only the third drug ever. But here's the issue: the second drug, the approval process from Health Canada to B.C. putting it on the health-care coverage – it took 28 months. We need it approved in months, not years."
More than 3,000 families in Canada are currently living with ALS. While it's often thought of or classified as a rare disease, Gowe drives home the message that it's anything but rare, noting that he's the fourth member of his graduating class at Handsworth Secondary that has been impacted by the disease.
While ALS continues to put enormous strain on his ability to speak, he's loud and clear that the time for recognizing ALS' impact in the local community and the country as a whole is now.
"Just through my own personal networking, I know of more than 20 families on the North Shore who have lost someone or they're living with it right now."