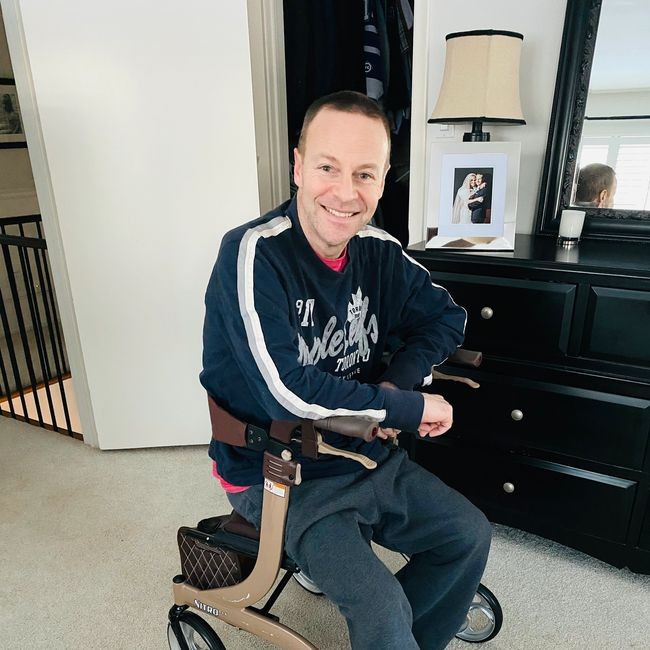 'Hard to mentally grasp this situation': Oakville man, 49, and drummer for Burlington band, diagnosed with ALS and family needs help
Published in the Toronto Star March 18, 2021
Carolyn Reilly wasn't expecting her family's life to change so fast.
"It's hard to mentally grasp this situation. Each morning we wake up, we try to set our intentions to be positive and to continue living our lives as normal as possible, but we seem to get thrown a curveball every day."
Carolyn is referring to the daily reality of living with amyotrophic lateral sclerosis (ALS) or Lou Gehrig's Disease, a life-changing diagnosis her husband, Don, received last fall.
Since that time, family and friends have rallied to help in any way possible while watching the active and athletic 49-year-old father of three gradually lose mobility as the motor neuron disease progresses.
The once avid skier, golfer, cyclist, spin instructor and drummer for the Burlington band Crowe has had to adapt to navigating life in a wheelchair.
A GoFundMe campaign, Reilly Heals, has been launched to help the family with the "massive financial burden" that accompanies the diagnosis.
"From renovating their home so Don can safely live there for as long as possible, to purchasing specialized equipment he needs, to accessing current breakthrough medications, the costs are enormous," states the site under Don's story.
If you wish to read more about Don and his family, or make a donation, visit https://gofund.me/d539d1ee.