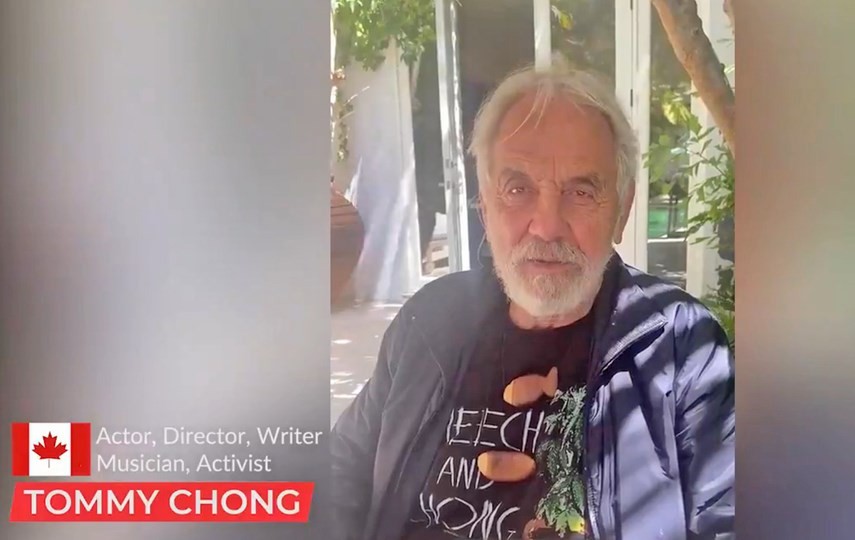 'Families with ALS need your help': Tommy Chong lends support to advocacy group looking to end disease
Published in North Shore News May 6, 2021, written by Ben Bengtson
Tommy Chong appears in a clip in support of ALS Action Canada on May 4, 2021.@ALSAction via Twitter
---
Actor, comedian and cannabis activist Tommy Chong has lent his support to a growing chorus of British Columbians calling for action to end amyotrophic lateral sclerosis, more commonly known as ALS.
Chong – a Canadian-American actor and performer who rose to fame in the 1970s alongside creative partner Richard "Cheech" Marin in the Cheech & Chong series of stoner comedies – was featured in a clip on the ALS Action Canada Twitter feed yesterday (May 4)
"Families with ALS need your help, so I'm asking you to help me end ALS," Chong says in the short clip.
A huge thanks to @tommychong for his support in helping to #ENDALS. We still need YOUR support to fund research and treatments to end #ALS for Canadian families. Learn how you can help, and donate here: https://t.co/m6em7iHeCM #icbcrebatechallenge #ALSaction #ALSCanada pic.twitter.com/56SSPsJraS

— ALS Action Canada (@ALSAction) May 4, 2021
Chong, who has roots in Vancouver, had owned a secluded home in West Vancouver's Stearman Beach neighbourhood since the 1970s. The house went on the market in 2019.
ALS Action Canada was formed last year after a group of ALS patients from B.C. connected with another group of people living with the disease outside the province.
The purpose of the group is to draw attention to ALS patients and their families across the country, while advocating for more clinical trials for experimental therapies or drugs throughout Canada.
Greg Gowe, a North Vancouver resident and one of the group's co-founders, said support from local and international celebrities such as Chong, as well as other high-profile individuals, was crucial in helping ALS Action Canada advocate for putting more resources into finding a cure.
Mainly, the patient-led initiative strives to improve access to promising therapies and clinical trials for people living with the disease.
"It's so important to raise the profile of ALS so that we are more on the government's radar," said Gowe. "It means the world to our group."
Gowe, who was forced into retirement at age 48 in 2019 after being diagnosed with ALS, said a group member who happened to know Chong reached out to him and asked if he'd send in a supportive message.
"He reached out and Tommy said, 'However I can help, I'm in,'" explained Gowe.
More than 3,000 families in Canada are currently living with ALS.
ALS, sometimes referred to as Lou Gehrig's disease, is a progressive degenerative disease that gradually paralyzes people as the brain loses the ability to communicate with the muscles of the body that control the ability to walk, talk and even breathe.
The group is currently trying to spread awareness for its ICBC Rebate Challenge, encouraging those who can afford it to donate a portion of their ICBC COVID-19 rebate cheque so the group can continue advocating for promising new ALS treatments.
Gowe said that so far more than 450 British Columbians have donated a portion of their rebates in support of the campaign.
In recent weeks, everyone from World Cup alpine ski racers to ER doctors have recorded short videos in support of ALS Action Canada's recent work.
A huge thanks to @BrodieSeger with the @CanadaSkiTeam for his support in helping to #ENDALS. Help Brodie fight for his dad and thousands of other Canadian's lives by supporting our cause and donating now: https://t.co/m6em7iHeCM #ALS #ALSCanada #icbcrebatechallenge pic.twitter.com/QQoXkZOGnJ

— ALS Action Canada (@ALSAction) April 29, 2021
Thanks to Dr. @courtghoward for her support in urging the Canadian government to continue to make progress by ensuring ALS drugs are being licensed to be trialed ASAP. Families with ALS need your support to help #ENDALS. Donate here: https://t.co/m6em7iHeCM #icbcrebatechallenge pic.twitter.com/mWJCj6fzXW

— ALS Action Canada (@ALSAction) April 30, 2021