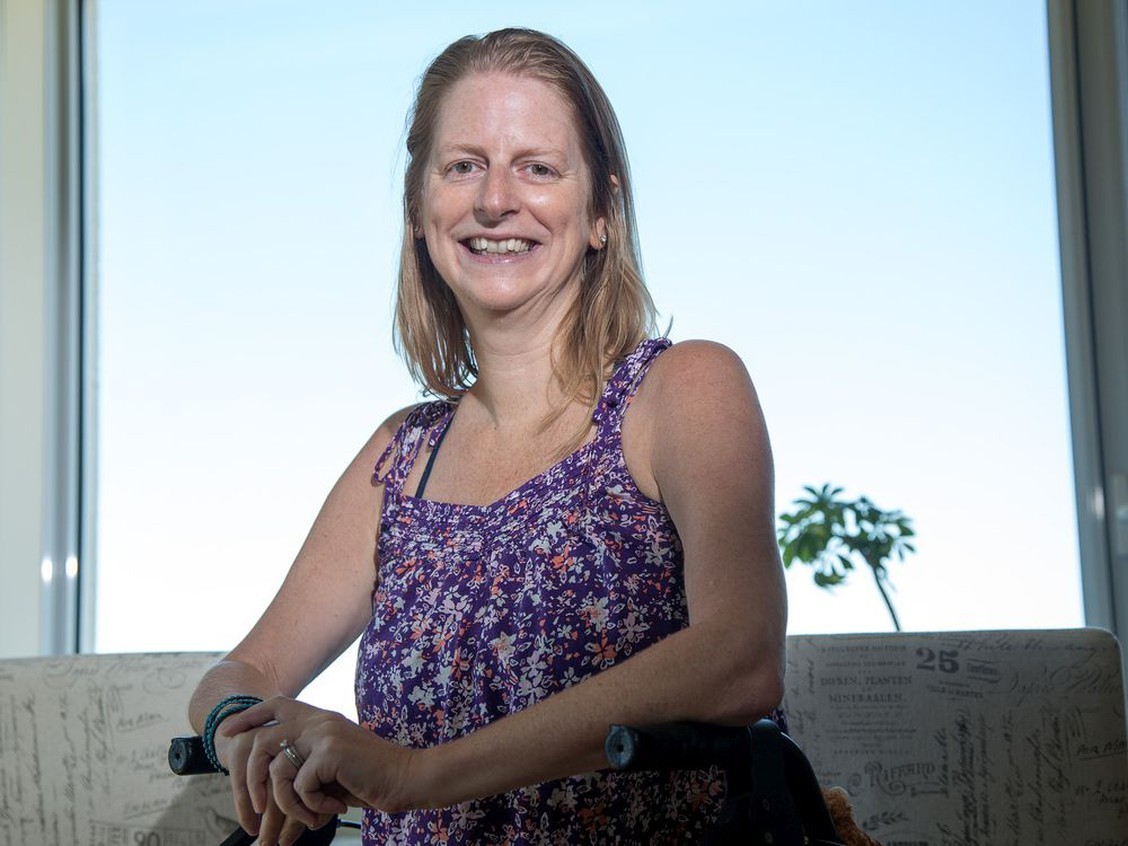 Egan: While she died of ALS, Carol Skinner's spirit would not be conquered
Published in Ottawa Citizen February 7, 2021, written by Kelly Egan
Carol Skinner was diagnosed with ALS in 2013. She died last Sunday. PHOTO BY WAYNE CUDDINGTON /Postmedia
---
She was an active advocate for the ALS Society of Canada, a frequent fundraiser and one who told her personal story many times.
---
Every time we met Carol Skinner, there was less strength in her limbs, more shine to her grace.
In 2015, when she began speaking out about ALS, she had been fitted with leg braces, which led to walking like a new foal. A year later, she was using a walker to get around the apartment. The year after that, three different wheelchairs.
But, invariably, it was wrapped in this positive attitude, this radiant smile, that broke the heart. Was she not one of the lucky ones, she asked, to still be living beyond the three to five years it typically takes for the incurable disease to run its course?
"That's why I kind of feel like I've been given a gift," she said in 2017, four years after being diagnosed with the terminal neuromuscular disease, which progressively weakens the use of major limbs.
And, so, the awful thing happened, the awful thing ALS finally does. Carol died on Sunday, age 49.
"It just got her, I guess that's the word," said her father Peter Sharman, who wrote openly about how the disease impacted an entire family. "ALS just got her."
A file photo of Peter Sharman and Carol Skinner before the Walk for ALS in 2018. PHOTO BY ASHLEY FRASER /Postmedia
---
Skinner was an active advocate for the ALS Society of Canada, a frequent fundraiser, and one who appeared in Postmedia pages many times, telling her personal story and making the broader plea for more research, more understanding and better support for caregivers.
"I would say that Carol was fearless," said Tammy Moore, chief executive of the national ALS Society.
"She openly shared her journey with others and still had an optimism about her. She was passionate, she was dedicated. She inspired others. She exhibited leadership in a lot of ways."
Skinner, a former art therapist with the Canadian Mental Health Association, took on several high-profile roles in her struggle with the disease.
She was more than once a lead walker, or ambassador, during the annual ALS walk in Ottawa and attended the first MP caucus on ALS after the death of Ottawa-Vanier member Mauril Bélanger, who succumbed to the illness in 2016. She also wrote a blog — Live, Love, Laugh with Carol — that had roughly 80 updates over seven years.
Moore said Skinner, who became a friend, attended many government meetings, spoke at a research forum and served on an international advisory council looking at patients and caregivers.
While she quit her paying job the day she was diagnosed in 2013, Skinner found a new passion in ALS advocacy.
"What was special about Carol was her openness and willingness to share the reality and the challenges," Moore said. Indeed, in 2016, Skinner admitted: "I'm terrified of what's happening to me, to be completely honest."
One of three children, she spent her childhood in Montreal, where, among claims to fame, she babysat for the children of Montreal Expos great Gary Carter. She graduated from McGill University and was a longtime summer camp counsellor, a rousing, rise-and-shine outlook she never lost.
Like her father — who ferried around the world as a pulp and paper executive — Carol was a born traveller, visiting about 30 countries in her lifetime, and it was on a long sojourn that she met her husband, Travis, originally from South Africa.
She was fortunate to have strong family support. When ALS struck, parents Peter and Louise relocated from Montreal to be nearby and Travis's brother and his wife moved to Ottawa from New Zealand for a spell to lend a hand.
During her illness, older brother Don died suddenly in the Caribbean, which only underlined for her that all of us are really only living day to day.
For a Father's Day feature in 2018, Peter Sharman wrote eloquently about the spectre of watching a child battle a terminal disease.
"I tell you how you compare it: Somebody just died," he wrote of the initial shock of discovery, while on a Mediterranean cruise. "There's no difference. Because, to me, she had died in that instant."
He said his daughter's irrepressible outlook as an adult was just the way she was as a child.
"She was even positive in the last few weeks," he said, but the disease had drained her, leaving her "tired, tired, tired."
Ever organized, Sharman said his daughter left detailed instructions about her affairs and even arranged for gifts and letters for each loved one.
And, so, we'll end with words of her own choosing, the theme of her blog, from a Chinese sage:
"In the end, it's not going to matter how many breaths you took, but how many moments took your breath away."
In the end, Carol, the ones with you. Thank you and farewell.