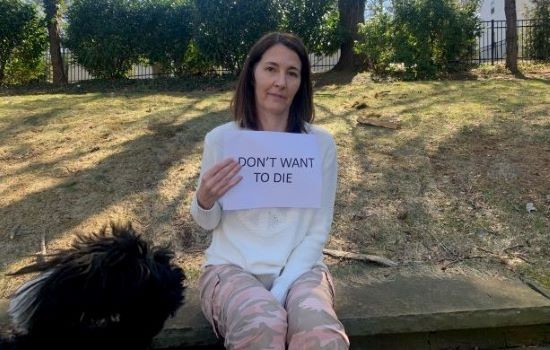 ALS Patients Fight for the Right to Try and Patient-Centric Trial Design
Published in https://www.biospace.com/article/als-patients-fight-for-the-right-to-try-and-patient-centric-trial-design-/ BioSpace March 30, 2021, written by Heather McKenzie
Lisa Stockman Mauriello/Photo courtesy of Lisa Stockman Mauriello 
---
Lisa Stockman Mauriello was diagnosed with Amyotrophic Lateral Sclerosis (ALS) in January and is seeking access to Biogen's tofersen (BIIB067) through the Right to Try Act.  Her case has reinvigorated the ALS community and its fight for expanded access to investigational therapies for this cruel, always fatal disease.
The Act, which allows terminally ill patients who do not qualify for a current clinical trial to appeal for access to medications that could save or extend their lives, was signed into law by President Trump in 2018.
The ethical quandary at the heart of this case: Do the needs of the many outweigh the right of this mother to try to live long enough to see her three sons graduate from college, high school and the eighth grade respectively – and moreover, does it really need to be an either/or question?
Tofersen, the collaborative brainchild of Biogen and Ionis Pharmaceuticals Inc., is an antisense oligonucleotide (ASO) which targets a mutation in the superoxide dismutase 1 (SOD1) gene, believed to be the genetic driver in SOD1-ALS, the second most common form of inherited, or familial ALS, which Stockman Mauriello suffers from.
In a Phase I/II study, tofersen demonstrated proof-of-biology and proof-of-concept, paving the way for the current Phase III trial which has an estimated study completion date of August 31st, 2021.
But within the SOD1 form of ALS, Stockman Mauriello has a particularly devastating AD5 variant which typically kills patients within 12 months from the onset of symptoms, which for her could be as early as August. In other words, she doesn't have time to wait.
"We want to make sure that this gets approved as quickly as possible just like Biogen does, to help as many people as possible, but if there's a way that she can get access without delaying FDA approval, that's really what we're looking for – kind of a win-win solution," Robert Mauriello, Lisa's husband of 25 years, told BioSpace. "I do think that if Biogen was as focused on finding a way to say yes as they are a nice way to say no, we'd be closer to a solution here."
Mauriello suggested that Biogen could add a few more patients to the current Phase III VALOR trial, which closed enrollment just weeks before Lisa was diagnosed, or add a Phase IIIb safety trial.
One of the ethical concerns Biogen has expressed is that a control group of trial participants in the 2:1 randomized trial is currently receiving a placebo.
"We cannot overlook these patients when considering questions of broader access and cannot keep them on placebo while at the same time offering tofersen to those outside of our study. Offering tofersen outside of the study would risk failing to complete the study and risk failing to obtain access for all SOD1-ALS patients," Biogen EVP of Research & Development, Alfred Sandrock wrote in a statement.
Sandy Morris, a 54-year-old mother of three from California who was diagnosed with ALS at the beginning of 2018, refuted this contention and provided a patient's perspective on the issue.
"That has no bearing on it whatsoever, because in the Biogen trial, the placebo patients are going to get the drug after their commitment to the trial. So why would the placebo participants care?" said Morris, who participated in a Phase III trial for NurOwn®, an investigational drug being developed by BrainStorm Cell Therapeutics Inc.
Information posted on the ALS Association website confirms that the VALOR trial is an open label study where participants may have the option to receive tofersen for an extended period of time following the study.
Morris added that she would be "thrilled" if Stockman Mauriello were granted expanded access to tofersen prior to the completion of the trial.
In fact, Morris, along with Phil Green, who was diagnosed with ALS in August 2018, is fighting for expanded access programs to be included alongside every ALS drug trial under the Patient-Centric Trial Design (PaCTD) Rating Criteria created by the I AM ALS Clinical Trials Team.
On this scale, Biogen scores well – the one notable exception being the absence of an expanded access program.
"The ethical dilemma really should be on using placebo arms in a terminal disease to begin with," Green said. "But that aside, Biogen did a good job in implementing an open label extension in this trial."
The trial also picks up points on this scale for minimizing placebo usage with a 2:1 ratio of individuals receiving tofersen to those receiving a placebo.
Michael Henson, who also participated in the NurOwn trial, added that clinical trial design overall is a significant impediment to progress in this disease space.
"Most of us feel that ALS is likely a variety of diseases, in fact, under the same umbrella, which is going to make a single cure virtually impossible. The problem we have now is, all these clinical trials are failing because way too much is expected of them," said Henson, co-founder of the "No More Excuses" ALS Advocacy Group.
ALS is known to be a highly heterogenic disease. For example, the SOD1 form that Stockman Mauriello suffers from is responsible for up to 20% of familial occurrences and only 2% of all ALS cases.
Toby Ferguson, M.D., Ph.D., Vice President and Head of the Neuromuscular Development Unit at Biogen, appeared to back up this hypothesis, telling BioSpace in a previous interview that there is a growing body of evidence that mutations within multiple genes are believed to cause ALS.
If this is the case, Biogen is headed down the right path, focusing on therapies that seek to address specific genetic mutations such as SOD1.
The 'I AM ALS' team is supporting the Accelerating Access to Critical Therapies for ALS Act, which was introduced in the U.S. House of Representatives in June 2020 by Congressman Jeff Fortenberry (NE-01), the Ranking Member of the House Appropriations Subcommittee on Agriculture, Rural Development, and Food and Drug Administration (FDA).
The bill aims to tackle the financial barrier for therapies being tested by small biopharmaceutical companies by creating a grant program that would fund access to investigational treatments for patients not participating in the clinical trial.
"As I have learned, there are a lot of dimensions in the discovery of biopharmaceuticals. I believe we need more creative ideas to streamline how NIH and FDA work together. They need to more aggressively discover and approve treatments for neurodegenerative diseases. The static government posture related to ALS compared to HIV and cancer is really a big impediment," Fortenberry told BioSpace. "My bill, Act for ALS, helps change the regulatory framework within the government. Without this change, I fear we will have another 40-50 failed trials in ALS."
For ALS patients, the potential efficacy of an investigational drug outweighs any risk.
"Part of my philosophy as a person living with ALS is, if you have data that supports that your therapy is helping some people, that is a significant win in our disease, and we should open it up to more people and see how the therapy works in a broader population," said Green.
Despite data from the NurOwn trial demonstrating a clinically meaningful treatment response compared with placebo in a prespecified subgroup and a reduction in both neuroinflammatory and neurodegenerative biomarkers, the FDA told BrainStorm that the data wasn't there to support a Biologics License Application (BLA) in February.
"The biggest challenge to receiving NurOwn under the Right to Try Act was that there was a ton of institutional pressure against paradigm change. When BrainStorm agreed to treat me they restored a hope that had been lost. I believe I am still alive because of NurOwn," said Matt Bellina, a namesake of the act.
Aside from restoring hope to terminal patients like Bellina, there is scientific benefit to be gleaned from EAPs.
"I do think you can learn something about ALS from expanded access protocols (EAP). Obviously, you're going to learn safety in a different population than in your trial, but you can learn about biomarkers or pharmacokinetics. You can design the EAP in a way that you're still contributing to the field for everybody," said Dr. Merit Cudkowicz, MD, Chief of the Neurology Department and Director of the Sean M. Healey & AMG Center for ALS at Massachusetts General Hospital.
Cudkowicz and her team are embarking on the "Healey ALS Platform Trial", the first trial to receive five stars on the  PaCTD, as each arm of the trial includes an EAP.
The four investigational medicines included in the trial are Zilucoplan being developed by UCB Biosciences Inc., Biohaven Pharmaceuticals' Verdiperstat, Bioenergetic Nonocatalysis by Clene Nanomedicine, Inc., and Prilenia Therapeutics' Pridopidine.
Until one of these drugs breaks through, ALS patients and their support groups will keep up the good fight for greater access to experimental drugs.
"By the time I was diagnosed with ALS, I had already been symptomatic too long to meet the exclusion criteria for any clinical trials. That was an incredibly hopeless feeling," said Bellina. "When Brainstorm agreed to treat me they restored a hope that had been lost. Thankfully, they had the courage to treat me, but unfortunately, I fear that action caused some people in the bureaucracy to form an unfair bias against the company."