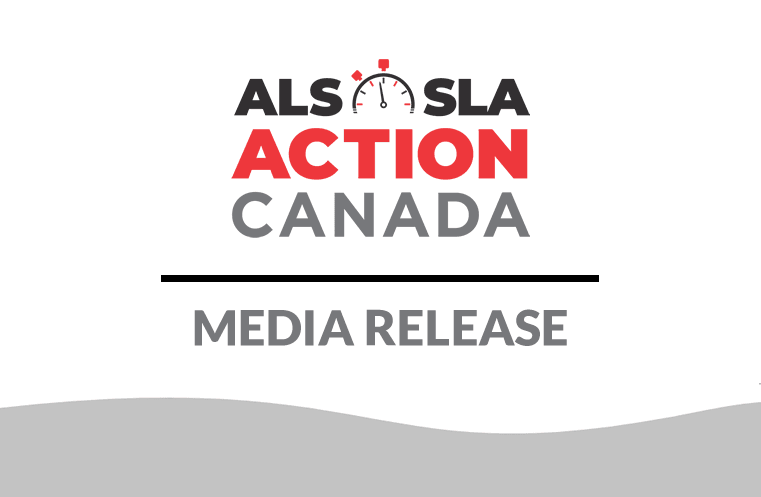 ALS Action Canada issues media release urging Health Canada and the provinces to swiftly approve AMX0035
Published March 10, 2021
FOR IMMEDIATE RELEASE
March 10, 2021
ALS Action Canada urges Health Canada and the provinces to swiftly approve promising new drug therapy AMX0035 for Canadians living with ALS 
VANCOUVER, BC – Yesterday, Cambridge, MA-based Amylyx Pharmaceuticals Ltd. a pharmaceutical company focused on developing new treatments for amyotrophic lateral sclerosis (ALS), announced that it plans to submit a New Drug Submission for AMX0035 to support the treatment of ALS with Health Canada in the first half of 2021. 
The decision to submit is based on the positive clinical data from Amylyx's CENTAUR trial and feedback from Health Canada. In addition, Amylyx is exploring options for early access to AMX0035 in Canada, including a potential special access program in collaboration with the Canadian ALS Research Network, and aims to finalize its plans by the end of the second quarter of 2021.
ALS Action Canada applauds Amylyx's application for this highly promising new therapy to Health Canada, and urges Health Canada and the provinces to swiftly approve AMX0035. We also urge Health Canada to make this therapy accessible as soon as possible to all Canadians living with ALS.
"The swift approvals by Health Canada of COVID-19 vaccines have proven that when there is the political will, safe treatments developed and trialed in other countries can be made quickly available to Canadians," says Deane Gorsline, of Ottawa, ON, an ALS Action Member living with ALS since 2018. "ALS is a ticking time bomb. The one thing people living with ALS don't have is time for slow drug approvals."
Currently, ALS patients in Canada have access to only two drug therapies, and in several provinces, they may not qualify for drug coverage for those therapies. AMX0035 is urgently needed by ALS patients in Canada.
In January, 2021 nearly 26,000 Canadians signed Petition e-2971 to the House of Commons (sponsored by MP Heather McPherson, member of the Federal ALS Caucus) calling on the Minister of Health to create a pilot project to reduce the delay in obtaining access to promising, Health Canada-approved ALS treatments to a maximum 3 to 6 months.
This pilot project, in collaboration with other national, provincial and territorial stakeholders, could pave the way for timely access to innovative treatments for Canadians with other devastating, incurable, and terminal conditions.  ALS Action Canada asks that Health Canada initiate this pilot project with AMX0035.
The results from Amylyx's CENTAUR trial of AMX0035 were tremendously positive. As noted in Amylyx's media release, issued March 9, 2021: "CENTAUR demonstrated that AMX0035 has both functional and long-term survival benefits which were seen on top of baseline use of approved ALS therapies," said Sabrina Paganoni, M.D., Ph.D., principal investigator of the CENTAUR trial, investigator at the Sean M. Healey & AMG Center for ALS at Massachusetts General Hospital, and Assistant Professor of PM&R at Harvard Medical School and Spaulding Rehabilitation Hospital."As ALS is a serious disease that progresses rapidly, this trial provides important information in the quest to be able to offer viable treatments – and hope – for people living with ALS." 
The study the study met its primary efficacy endpoint of slowing ALS as measured by the ALS Functional Rating Scale-Revised (ALSFRS-R).
As noted in Amylyx's release, "These positive clinical trial results are encouraging for the approximately 3,000 Canadians living with ALS and their families who are desperately looking for effective treatment options," said Angela Genge, M.D., Director of the Clinical Research Unit at the Montreal Neurological Institute in Quebec.
ALS Action Canada member Jeff Derby had to travel from British Columbia to the Seattle, WA  to participate in the CENTAUR trial. He credits the trial for the slowing of his condition.
ALS Action Canada is part of a patient-led, global movement to #EndALS. In addition to Health Canada, we call on the US Food and Drug Administration and regulating bodies around the world to invite Amylyx to apply for approval in their countries.
We also urge Health Canada to enter into an agreement with the US and other countries leading clinical trials in ALS therapies to use the model of Project Orbis (an initiative of the US FDA Oncology Center of Excellence, which provides a framework for the concurrent submission and review of oncology products among international partners) to speed up approvals of promising ALS therapies developed outside of Canada, for swift access by Canadians living with ALS.
__________________________________________
ABOUT ALS ACTION CANADA
Formed in February 2020, ALS Action Canada is a patient-led organization advocating for urgent access to promising therapies for Canadians living with ALS, more and better clinical trials for ALS therapies in Canada, and increased federal and provincial funding for ALS research.
With members from across the country, we are a strong network of Canadian ALS patients and supporters, dedicated to amplifying the voices of, and actively advocating for, the thousands of Canadian families and their communities living with this devastating disease.
www.alsactioncanada.org
Twitter: @ALSaction
Instagram: @ALSaction
Facebook: @ALSActionCanada
#EndALS
– 30 –
MEDIA CONTACT
Bre Hamilton
Ghent Hamilton + Partners
bre@ghenthamilton.ca
1 604 787 5167