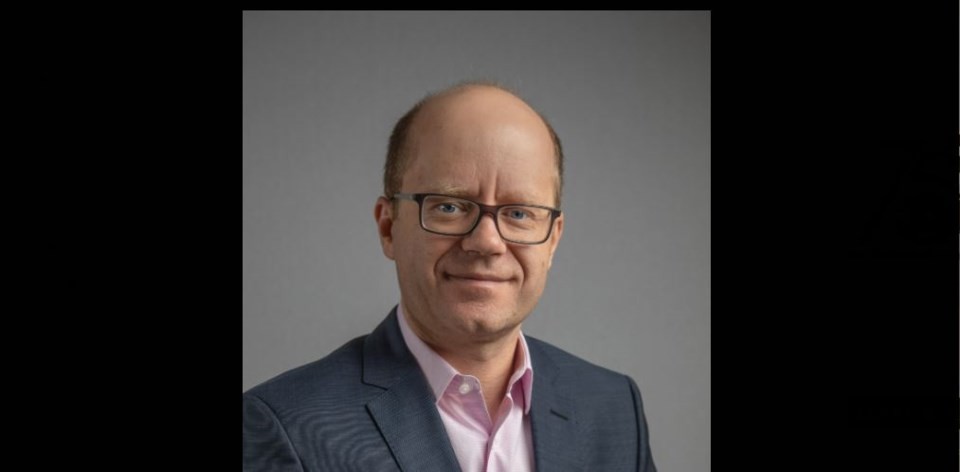 A Chippewa Secondary School graduate is helping lead national research on ALS
Published in BayToday.ca November 18, 2020, written by Matt Sookram
Amyotrophic lateral sclerosis (ALS), also known as Lou Gehrig's disease is something that doesn't have a cure.
It progressively degenerates the nerve cells in the human body that control muscle movements. It is a debilitating disease, however, it is one that researchers have been able to make great improvements on over the last decade. One of those researchers is North Bay's own Lawrence Korngut who works as an Associate Professor, Clinical Neurosciences at the University of Calgary.
"We now have two treatments that can slow this thing down and there's a third one coming, a very promising one in the works and a fourth one potentially. Nothing happens overnight, these experiments seem like they take forever. As you can imagine, doing experimental work in humans is very complicated and takes lots of time and money. But you just keep plugging away and you try not to focus on how long you're taking. For the patients, it's always taking way too long and that's understandable. However, in the last decade, things have changed so much, it's dramatic. More and more we are getting opportunities for our patients and it's very exciting to be just a small part of that."
Korngut leads the ALS program at the University of Calgary and says they have 220 patients in their clinic.
"I will do a full day where I have to sit in front of people and give them bad news when I diagnose them. So, it sort of makes up for that when you can actively do something for them and give them the opportunity to participate in research," he says.  "It's similar to cancer where if you don't have a good treatment available you want to give people opportunities for experimental research that may or may not work. We spend a lot of time doing most of the big clinical trials that happen in the world right here in Calgary and that's mostly just to give our patients opportunity to participate. But it's also exciting to be part of it because occasionally the treatments go on to be very useful and they can help patients."
Getting a medical degree and working in neuroscience is something Korngut says he was interested in from a very early age.
"I spent my summers working at the Psych Hospital when it was still there, and my mom was a psychometrist at the hospital and I just got interested in science," he says. "I remember coming across a book at the North Bay Public Library about different jobs and the neurology jobs just seemed the most interesting to me. Then there was a book I came across that really inspired me called Bright Air, Brilliant Fire by Gerald M. Edelman and right in the first line of the book is the description of this neuro-scientific revolution that is about to happen and he says 'by the end of it, things are going to look very different' and I think that's what I have seen in my career, that's exactly dead-on correct with how things happen and I probably read that in grade nine. I thought that was really cool.
"I had great science teachers in high school too, and actually there are a number of us that have gone into very scientific fields and they are doing amazing stuff and we were in the same grade 11 science class at Chippewa with Mr. Chamberlain where we all started having an interest in this field."
After graduating from Chippewa, Korngut ended up at Queens University for his undergrad and did several neuroscience courses. He went on to Western University for Med School.
Korngut has had the opportunity to lead and advise different networks of medical institutions including being the founding Chair of the Canadian Neuromuscular Diseases Network and he says getting to work with different groups of people has been what he admires the most about his job.
"The science is amazing and that gives you the answers for what you need to do. But when I look back on the last decade, it's the people that make it all worthwhile. It's the patients, the colleagues, the friends. So being in a position where I was leading the Canadian Neuromuscular Disease Network is a great honour and it allows you to be a bit of a focal point as to what's going on and all the amazing things that people are doing and being able to help them accomplish those things was very exciting. You look for those things that are energizing, people and opportunities that present those are what you look for."
Korngut says those opportunities can really carry him through the day as the work itself can be an exhaustive process.
"We'll spend a lot of time making sure that this is the best project that you can do. It's got to be the best use of the patients time, our time, everyone's resources and money and even though you know that these projects are going to take two to three years to finalize or get results, you are just so eager to know the answer," says Korngut.
"Of course, it's devastating when these things don't work out as you like, but literally you walk out of that room and start on something new the next day."
Korngut says the ability to collaborate with people across the country is one of the biggest differences between the medical fields in Canada and the United States of America.
"Canada is not actually that competitive in terms of who gets their hands on different medical research.
"For example, we have one ALS clinic in Calgary, there is one ALS clinic in Toronto, so these places aren't competing for patients, whereas in New York City there are probably 10 clinics. So, there is sort of a healthy competition that goes on. But culturally Canadians are probably a little bit less competitive and a little more collaborative and were also one-tenth the size. But while Canada is a smaller country relative to the USA, we for sure punch above our weight and deliver world class research. What goes on here is just incredible, considering the resources that we have. There is a lot of collaboration that goes on with people right across the country and it's a wonderful career option for people that like to be in that kind of work environment."
Korngut was named in the Avenue Magazine Calgary 2015 edition Top 40 Under 40 rankings and was also named Researcher of the Year in 2011 by Muscular Dystrophy Canada. He is also the co-founder and Chief Medical Officer of Dataffinity Health Inc. which is a digital health company focusing on the development of data platforms that facilitate the collection of patient data which then provides insights into disease, natural history, and effects of therapies.
Korngut says as an Associate Professor this is something he reiterates to his students that the medical degree can lead to so many different opportunities, as his own career has shown.
"There is this whole other world you can do as a physician which not a lot of people think about when they go into medical school. There's the research and educational elements. There are administrative, leadership, and entrepreneurship opportunities and working in so many different fields. It's a very rewarding career and a lot of different roads can be found that start with getting that medical degree."
He adds that working with the students, whether it is giving a lecture on muscle physiology or teaching neurological clinical methods at the med school, it is something that reinvigorates his passion for his work.
"There may be a day where you're burned out and just tired from being in the clinic all day and then you go in and work with these med students who are just so eager to learn. By the end of a three-hour session, you think you would be exhausted but you're just so pumped because of their enthusiasm. Occasionally they go into neurology and they become my colleagues. You meet someone who is a first-year med student and 10 years later they are working with you. It's a precious relationship in the sense of being there to support them and teach them things and you also learn a lot from them too."
Korngut says his best advice for anyone who thinks they may want to go into this career is to get emerged in the industry.
"I would encourage people to get exposed and spend some time doing medical research if there's no clinical stuff around them or volunteer at the hospital. Just see what doctors do and talk to them and get some shadowing experience. This would help them learn if it's something that they want to do. It's not for everybody but it's a great career."
If you have a story suggestion for the "helpers" series, send Matt an email at m.sookram@outlook.com.