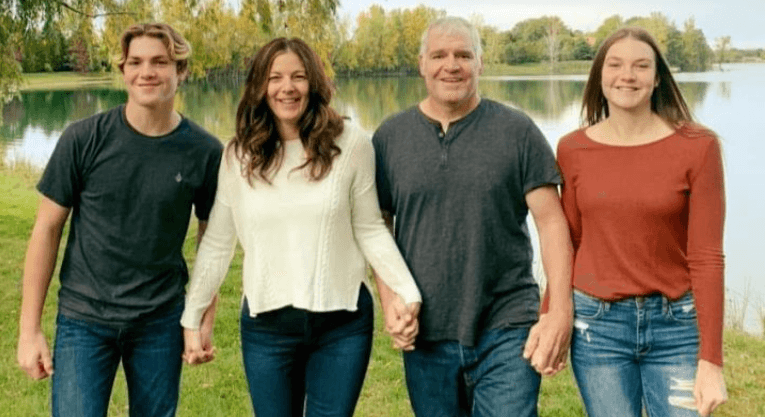 Donations pour in after local man diagnosed with ALS
Published in BlackburnNews.com November 23, 2020, written by Allanah Wills
Ryan Goulet and family
---
The community of Chatham-Kent is rallying around a resident as he deals with a life-changing diagnosis.
It was March of 2020 when 47-year-old Ryan Goulet received his initial diagnosis of Amyotrophic Lateral Sclerosis (ALS), or Lou Gehrig's Disease.
The nervous system disease impacts nerve cells in the brain and spinal cord and results in the progressive loss of motor neurons that control voluntary muscles.
Last month, Goulet's friend of over 20 years Quentin Sprik decided to create a GoFundMe as a way to help ease some of the pain that Goulet, his wife and two children are currently dealing with.
A well-known face in the local sports community, Sprik said that Goulet has made a positive impact on many people's lives.
Within a day, the campaign reached its target goal and has continued to grow to over $34,000. Sprik said most of the donations came by word of mouth and it's been humbling and awe-inspiring for him to see so how giving people have been.
"What we did with the GoFundMe is just a very small part of everything. The community, friends, people who have gotten together to help him out," said Spirk. "It's even amazing to me, even knowing him like I know whim, how many people he's touched and been a part of."
Sprik described ALS as a vicious and costly disease. Any money raised will largely go towards household renovations to help Goulet function in day-to-day activities
"What we've raised, it won't even be enough for how it's going to affect him," Sprik explained. "The money they're going to lose from work, being off of work. he's going to need that extra care. We're trying to make it so it's one less thing that they have to worry about."
A local business is also lending its hand to help with the cause.
CEO of Handy Bros ClimateCare Mitch White said when he heard Goulet's compelling story, he knew instantly he wanted his company to be a part of it.
Handy Bros ClimateCare will be renovating the main floor of Goulet's house to make it wheelchair accessible, including two ramps, making entrance ways bigger and turning a bedroom into a wheelchair accessible bathroom.
"Basically, it makes it easier for him to operate and to move around, to do things he needs to do," explained White.
Handy Bros will be doing the project free of charge. Work started on it on Sunday and is set to be completed within a week. White said he reached out to the company's suppliers and contractors, told them Goulet's story and they all had the same reaction he did.
"It was for sure overwhelming," he said. "A lot of companies are chipping in. More are hearing the story and jumping on board as well. It's cool to see Chatham come together."
According to Sprik, Goulet and his family are also overwhelmed and grateful for all the support.
"It's been crazy just seeing how generous people have been and how much people want to donate towards helping out," he said.
Although Sprik created the GoFundMe, he stresses that nothing would have been possible without the help of the community.
"I just put it out there," he said. "The friends the family, the community that's been helping out, that's number one. It's been amazing and that's what's driven everything and what's done everything."